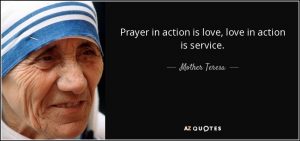 Chaplaincy Team
Miss White (Headteacher)
Mrs Felgate (Pastoral Leader)
Mrs Mallam (Deputy Headteacher – Performing Arts Leader)
Mrs L Collings (RE Leader)
Mrs Spillane (Class Teacher – Music Leader)
Mrs Houliston (Class Teacher – PSHCE Leader)
Mr Loughlin (Parishioner Sacred Heart Parish – SVP Link)
Mrs Brown (Class Teacher – Mini-Vinnies Leader)
Mini-Vinnies (Pupils)
Our Chaplaincy Team Aims
Being part of the school community.
Being a listening ear within the school community where children have a safe space to share their thoughts and concerns.
Supporting the school in its delivery of spirituality, worship and prayer with a particular emphasis on Christianity.
Enhancing the pastoral care structure of the school to enable it to meet the needs of its community.
Working in other areas of the school community as need and opportunity arises and as skills and expertise allow.
Offering opportunities to explore personal and Christian belief and values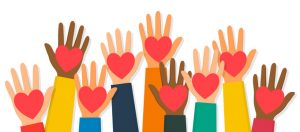 Pastoral Care
Mrs E Felgate is our Pastoral Lead.  She works with children on behaviour strategies and is a listening ear for our children.  All children know that they can come and speak to Mrs Felgate at any time.  She helps settle in our new children to the school and supports all our families.  Mrs Felgate arranges for children and their families to have REACH, Bungalow Project or Play Therapy support and work with our counsellor employed by the school from CATs Counselling Services.
If the necessary support services are not readily available in school Mrs Felgate signposts parents to appropriate agencies, e.g. those working with children whose parents are in prison, have some addiction or are experiencing domestic violence.
Pastoral concerns are discussed with the SLT fortnightly on a Thursday morning and strategies are immediately put in place to address any urgent concerns.    Pastoral and safeguarding concerns are shared with staff in staff meeting time or personally to teachers when new issues or problems arise or are of a safeguarding nature.
Nurturing and Spiritual Growth
This is centred through collective worship and ongoing acts of worship in classrooms.  The school day is punctuated by prayer.  The RE Lead, along with the Executive Headteacher, plans the year`s celebrations and acts of worship based on the church year.  The Music Lead works with staff to match hymns to celebrations and provide resources.  The new prayer space adds to the spiritual growth of our children.  Travelling cribs and crosses along with the prayer journals that travel with them, mark Advent and Lent.   Stations of the Cross, Rosary and other set acts or worship all add to the spiritual growth of our children.  The Music and Performing Arts Leads work together to create liturgical dance.
Building Community
All staff work hard to settle new children into school as quickly as possible.  All are welcome regardless of race or religion.  The RE Lead plans a schedule of assemblies/acts of worship to which parents and carers, and all the family, are invited.   When we learn about other faiths, our families often come into school to support learning, e.g. they cook traditional food with the children and share customs and traditions.  Each year at Eid, some parents cook for the staff and bring in food for their lunch.
Children in KS2 attend mass on a rota basis every Friday and meet members of the parish.  All of KS2 go to mass on Ash Wednesday and, if we are in school, the whole school goes to mass for the Feast of the Sacred Heart.
The Music Lead and Performing Arts Lead take groups of children to sing in local care homes ensuring that children bring joy and the Christian message to others. They also take part in a range of other community projects, e.g. the launch of the new town hall, they sing in shopping centres and they invite members of local parishes into the school. All of this ensures that the children know their place in the community and the community knows them. We work especially closely with MIMA, the university and the Dorman Museum
The school supports many charities but especially local causes such as The Upper Room, at the John Paul Centre and CAUSE.  Our children are taught about Catholic Social Teaching and caring for those less fortunate than themselves. Generally, the school fund raises for 3 charities per year – local, national and world-wide.
Our school council works with other school`s council members to share ideas, learn from each other and build links with neighbouring schools.  This is the responsibility of the PSHCE Lead.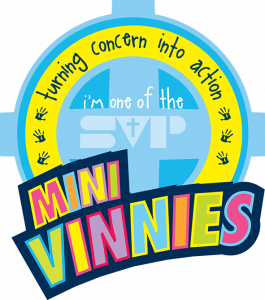 School has a Mini Vinnies group led by the Year 3/4 teacher, Mrs Brown.  The Mini Vinnies meet regularly to pray together and plan charitable works.  We have a new team this year as many of our Mini Vinnies were in last year's Y6.  Every Summer the Mini Vinnies collect for and run a stall at the Parish garden fete. In addition they collect non-perishable food at Harvest time and Christmas to distribute to those in greatest need. This is often carried out in partnership with the SVP. (Mr Loughlin)
The school benefits from visits from leaders of other faiths and Christian denominations, e.g. Rev Una from the Methodist Church and the Imam from the local Mosque.
The RE Lead plans staff prayers, which are held regularly at the beginning of staff meetings or in the weekly morning meetings for teachers and support staff. Staff also pray the Rosary and take part in the Stations of the Cross together.