Science at Sacred Heart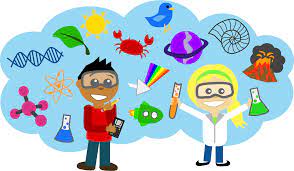 "Remember to look up at the stars…wonder about what makes the universe exist. Be curious." 
Stephen Hawking
"The important thing is to never stop questioning." 
Albert Einstein
Intent
At Sacred Heart, we want every child to aspire to succeed as a Scientist and be the best that they can be. We work tirelessly to broaden the horizons of every child, nurturing their interests and extending the boundaries of their lives. Our aim is teach specific Science-based skills through the teaching of dual-objective lessons in order to nurture and develop young scientists and engineers of the future. 
Implementation
Early Years Foundation Stage
We teach Science in Nursery and Reception as an integral part of the topic work covered during the year. The scientific aspects are set out in the statutory framework for the early years foundation stage. Children will begin to develop their understanding of the world  through role-play and provision areas which are set up within the classroom, as well as being provided with regular opportunities to explore the natural world, discussing their knowledge and observations of scientific elements such as plants, animals and the changes in seasons. 
Key Stage 1 & Key Stage 2
Science is taught discretely at least once a week in Key Stage 1 and 2, where the children develop their knowledge of scientific concepts and their scientific skills. This knowledge, however, may be deepened and consolidated through reading and writing lessons. Each classroom has an area where scientific vocabulary related to the topic are listed as the children are introduced to them over time. Teachers ensure that at least one science experiment takes place in every topic. Children are given opportunities to develop a range of scientific skills, and the skill focus of each lesson is stated as the title in each child's piece of work. Coverage of topics, number of lessons and the order in which they are completed are set out in our school's Science Map.
Assessment 
Children's work will be marked according to the agreed school policy. Once a term, each class teacher in Key Stage 1 and Key Stage 2 will assess one of their lessons by recording the level of three pupils, who provide a good cross-section of the overall class.
To find out how our curriculum drivers are embedded in Science, click here.